Language
Nóż Myśliwski Stałe Ostrze Ergonomiczny Uchwyt Drewno
Reviews

Shipping within

24 hours

Shipping price

12

The Availability Of

0

opak

The Weight Of The

0.15 kg
Description

Reviews & ratings (0)

Ask a question
Oferowany model to klasyczny nóż myśliwski ze stałym ostrzem. Jest to również idealny nóż survivalowy.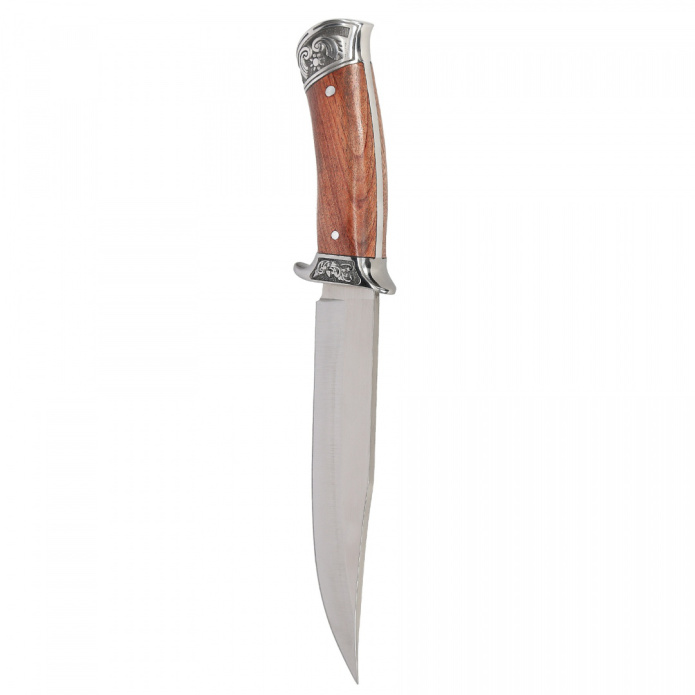 Materiałem wykonania jest zaawansowana technologicznie stal nierdzewna. Noże posiadają wszystko czego potrzebujesz aby bez trudu oprawić zwierzynę, przygotować drewno na ognisko, przyrządzić posiłek w leśnych ostępach i wykonać wszelkie prace polowe.
Zastosowanie wybranej twardości noża gwarantuje długie trzymanie ostrości oraz odpowiednią wytrzymałość klingi.
Rękojeść o wysokiej ergonomii posiada okładziny wykonane z drewna. Odpowiednia tekstura oraz profilowanie zapewnia pewny i bezpieczny chwyt podczas użytkowania.
W zestawie z nożem znajduje się funkcjonalna nylonowa pochwa producenta dla wygody noszenia. Posiada również klips do zamocowania noża do plecaka lub pasa.
Nóż oprócz swojej funkcjonalności jest również pięknie wykonany, stanowi doskonałą ozdobę myśliwego.
Idealny nóż na biwakowanie, polowanie czy wędkowanie.
Parametry techniczne:
- Nóż ze stałym ostrzem, 32cm.
- Ostrze wykonane ze stali nierdzewnej
- Cały nóż ma długość 32 cm
- Długość ostrza 19 cm
- Szerokość ostrza 3,5 cm
- Rękojeść noża jest dopasowana do pięknego drewna
- Nylonowa kabura z paskiem do przenoszenia noża
There is currently no comments or ratings for this product.
Recently viewed products

Other Customers also purchased

Similar products
Store temporarily unavailable